Famous basketball quotes by Michael Jordan, LeBron James…. that will inspire you! Check out these motivational quotes about basketball.
Famous & Inspirational Basketball Quotes
Baseball is a team game but, at the same time, it's a very lonely game: unlike in soccer or basketball, where players roam around, in baseball everyone has their little plot of the field to tend. When the action comes to you, the spotlight is on you but no one can help you. – Chad Harbach
A lot of late nights in the gym, a lot of early mornings, especially when your friends are going out, you're going to the gym, those are the sacrifices that you have to make if you want to be an NBA basketball player. – Jason Kid
To be successful you have to be selfish, or else you never achieve. And once you get to your highest level, then you have to be unselfish. Stay reachable. Stay in touch. Don't isolate. – Michael Jordan
The strength of the team is each individual member. The strength of each member is the team. – Phil Jackson
Don't be afraid of failure. This is the way to succeed – Lebron James.
If you are afraid of failure you don't deserve to be successful! – Charles Barkley
I don't know what I'm going to do tomorrow. I just know for sure I'm going to keep playing basketball. – Kevin Durant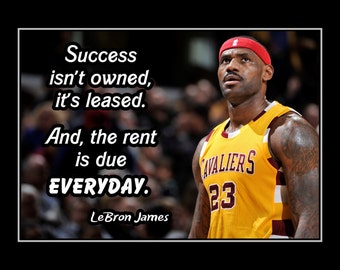 Ability may get you to the top, but it takes character to keep you there. – John Wooden
A basketball team is like the five fingers on your hand. If you can get them all together, you have a fist. That's how I want you to play.- Mike Krzyzewski
Obstacles don't have to stop you. If you run into a wall, don't turn around and give up. Figure out how to climb it, go through it, or work around it. – Michael Jordan
Concentration and mental toughness are the margins of victory. – Bill Russell
You always have to give 100%,because if you don't someone, somewhere will give 100% and they will beat you when you meet. – Ed Macauley
There may be people that have more talent than you, but there's no excuse for anyone to work harder than you do.- Derek Jeter
Some people want it to happen, some wish it would happen, others make it happen. – Michael Jordan
Great players are willing to give up their own personal achievement for the achievement of the group. It enhances everybody. – Kareem Abdul-Jabbar
Keep practicing, never let anyone tell you're too small or too slow. – Chris Paul
A winner is someone who recognizes his God- given talents, works his tail off to develop them into skills, and uses these skills to accomplish his goals. – Larry Bird
The idea is not to block every shot. The idea is to make your opponent believe that you might block every shot. – Bill Russell
We try to stress the little things because little things lead to big things. – Steve Alford
I've missed more than 9000 shots in my career. I've lost almost 300 games. Twenty six times, I've been trusted to take the game winning shot and missed. I've failed over and over and over again in my life. And that is why I succeed. – Michael Jordan
When I was young, I had to learn the fundamentals of basketball. You can have all the physical ability in the world, but you still have to know the fundamentals. – Michael Jordan
Hope you like these inspirational basketball quotes, feel free to share them!
Comments
comments