We shares top 11 short Mother's Day quotes with pictures. Happy Mother's day 2015! Let's send these beautiful poems to your beloved mother.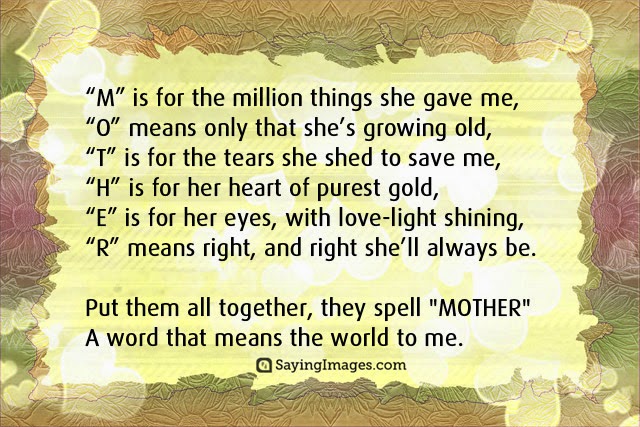 MOTHER's DAY POEMS
"M" is for the million things she gave me,
"O" means only that she's growing old,
"T" is for the tears she shed to save me,
"H" is for her heart of purest gold;
"E" is for her eyes, with love-light shining,
"R" means right, and right she'll always be,
Put them all together, they spell "MOTHER"
A word that means the world to me.
A Wish for You
Just one little wish for you, Mom,
But it's loving and happy and true-
It's a wish that the nicest and best things
Will always keep coming to you!
Wonderful Mother
God made a wonderful mother,
A mother who never grows old;
He made her smile of the sunshine,
And He moulded her heart of pure gold;
In her eyes He placed bright shining stars,
In her cheeks fair roses you see;
God made a wonderful mother,
And He gave that dear mother to me.
– Pat O'Reilly
My Mother
My Mother, my friend so dear
throughout my life you're always near.
A tender smile to guide my way
You're the sunshine to light my day.
Mom And Me
Best friends forever mom and me
picking flowers and climbing trees.
a shoulder to cry on secrets to share
Warm hearts and hands that really care.
A Mother's Love
Of all the special joys in life,
The big ones and the small,
A mother's love and tenderness
Is the greatest of them all.
I Love You Mom!
Mom's smiles can brighten any moment,
Mom's hugs put joy in all our days,
Mom's love will stay with us forever
and touch our lives in precious ways…
The values you've taught,
the care you've given,
and the wonderful love you've shown,
have enriched my life
in more ways than I can count.
I Love you Mom!
To My Mother
For all the times you gently picked me up,
When I fell down,
For all the times you tied my shoes
And tucked me into bed,
Or needed something
But put me first instead.
For everything we shared,
The dreams, the laughter,
And the tears,
I love you with a "Special Love"
That deepens every year.
I Wish I Could Tell You, Mom
I wish I could tell you, Mom
how much you mean to me….
But there are no words to say
how much I admire you…
how much I appreciate you…
how much I thank you
for everything you've done.
Wishing You a Wonderful Day
Sending this, Mom,
Especially to say
Wishing you a happy
And wonderful day…
And to tell you this day
Will always be one
For remembering the many
Sweet things you have done!
"Happy Mother's Day" means more
"Happy Mother's Day" means more
Than have a happy day.
Within those words lie lots of things
We never get to say.
It means I love you first of all,
Then thanks for all you do.
It means you mean a lot to me,
And that I honor you.
But most of all, I guess it means
That I am thinking of
Your happiness on this, your day,
With pleasure and with love.
Source:sayingimages.com