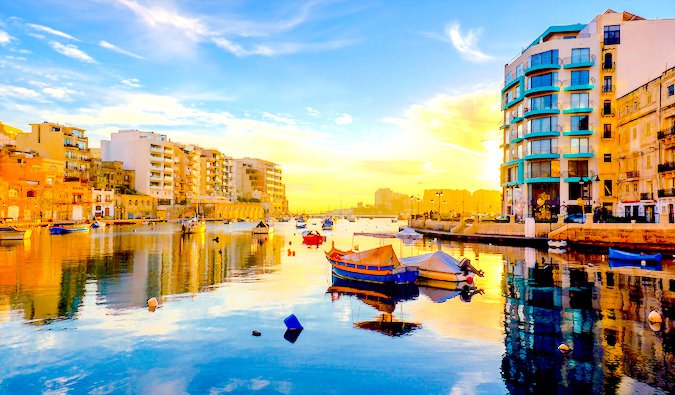 For centuries, the Maltese archipelago passed between North African Moors and European Crusaders in an epic struggle for control of this important hub. This constant back-and-forth created a unique culture that blended architectural, culinary, and cultural styles (in fact, the Maltese language is a mix of Arabic and Italian) found nowhere but maybe Southern Spain.
Now, the country draws people less with the whole conquering-empires thing and more with its warm summer temperatures, pristine beaches, clear Mediterranean water, ample hiking, friendly locals, and cheap prices.
Though I didn't spend as much time as I wanted in Malta, I spent enough (literally and figuratively) to get a sense of how to travel the country on a budget. Luckily, the country is already very budget friendly (it's one of the cheapest Eurozone countries out there) so you don't need a lot to begin with. Even though I was on a holiday and not being as budget friendly as I wanted, I still never spent a lot of money. My most expensive day cost me 70 EUR ($74), and that's because I rented a car! Even when I was watching my wallet, at no point did I ever feel as if I was missing out.
Though Malta will never break your budget, I always am one to look for a deal, as I'm a firm believer that every destination has a way to be cheaper.
So here is your in-depth guide to visiting Malta on a budget:
Getting There
While most European carriers operate seasonal flights, there aren't many airlines that fly to Malta year-round. Ryanair, Air Malta, easyJet, and Lufthansa are the biggest carriers that service the island year-round. One-way flights from the mainland cost 50-100 EUR ($53-106 USD), especially if you book in advance. You can also take the ferry to/from Sicily; it's 2.5 hours and costs 61-127 EUR ($65-135 USD) each way (depending on the season).
Typical Costs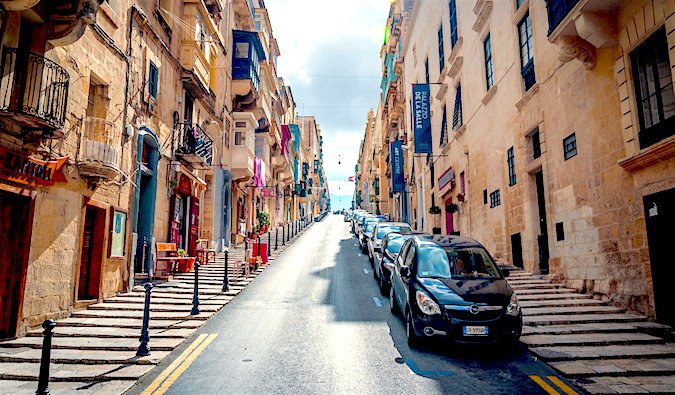 Malta is cheap. While I went in the middle of winter — without the seasonal increase in prices for accommodation, car rentals, and flights — many friends told me that most prices for food, activities, and public transportation stay the same throughout the year. Here is a list of typical costs in the country:
Ferry to Valletta from Sliema: Single: 1.50 EUR ($1.60 USD), Return: 2.80 EUR ($2.95 USD)
Ferry from Malta to Gozo: Pedestrian: 4.65 EUR ($5 USD), Car and Driver: 15 EUR ($16 USD)
Pastizzi (cheap snack): 1-2 EUR ($1-2.10 USD)
Breakfast sandwich: 3-4 EUR ($3.15-4.25 USD)
Full breakfast: 8-9 EUR ($8.50-9.50 USD)
Lunch at a café: 8-10 EUR ($8.50-10.50 USD)
McDonald's value meal: 5-6 EUR ($5.25-6.50 USD)
Sandwich: 6 EUR ($6.50 USD)
Nice dinner at a sit-down restaurant with wine: 25 EUR ($27 USD)
Main meals: 10-14 EUR ($11-15 USD)
Pizza: 6-9 EUR ($6.50-9.50 USD)
Bottle of water: 1 EUR ($1 USD)
Bottle of wine: 8-10 EUR ($8.50-10.50 USD)
Beer: 3 EUR ($3.15 USD)
Museum entrance: 6 EUR ($6.50 USD)
Car rental: 38-48 EUR ($40-50 USD)
Taxi prices: 10-20 EUR ($10.50-21 USD)
Public bus ticket: 2 EUR ($2.10 USD)
On average, you'll be able to visit Malta for 30-45 EUR ($32-48 USD) per day, though in the summer I would say you need to budget closer to 50 EUR ($53 USD). At that price, you're looking at staying in a hostel dorm or splitting an Airbnb with a friend, taking public transportation, mostly sticking to the free activities, cooking your breakfast, and eating at the cheap(er) cafés.
How to Save Money in Malta
Accommodation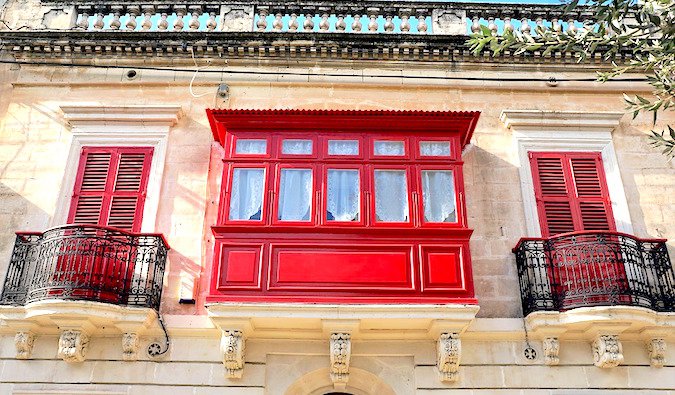 There are a couple of hostels on the islands, with dorm prices beginning at 9 EUR ($9.50 USD) per night (though prices double in the peak summer time). Airbnb is ridiculously cheap — I found a whole house for 35 EUR ($37 USD) a night. Most budget hotels cost 40 EUR ($42.50 USD) so I would stick to Airbnb or hostels for accommodation. However, like hostels, the prices for places more than double to around 80 EUR ($84 USD) per night in the summer; budget hotels cost around 40-60 EUR ($42-63 USD) in the summer.
To save money on accommodation, travel off-season and stay in dorms or split Airbnb units with friends. You can use the website eurocheapo.com to find good B&Bs, as they have a robust listing.
Food and Drink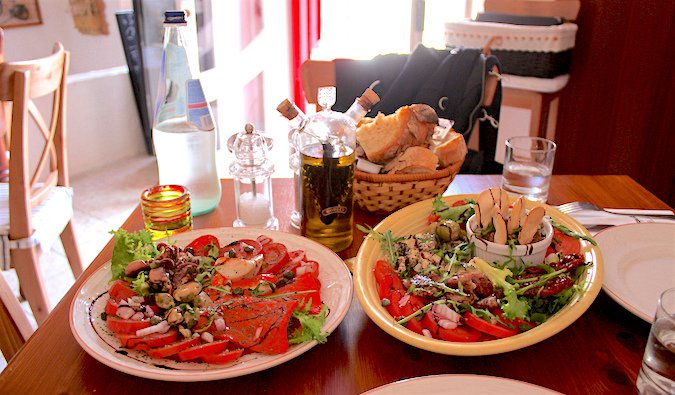 Food prices are relatively inexpensive, though you'll find higher prices in tourist areas such as Valletta, St. Julian's, Sliema's boardwalk, and Marsaxlokk.
To save money on food, stick to the pastizzi (savory filled pastries) for about 1-2 EUR ($1-2.10 USD), eat at the plethora of vegan and vegetarian restaurants throughout the country (see the list below), avoid snacking, and cook as many meals as possible (breakfast will see the biggest wins).
Transportation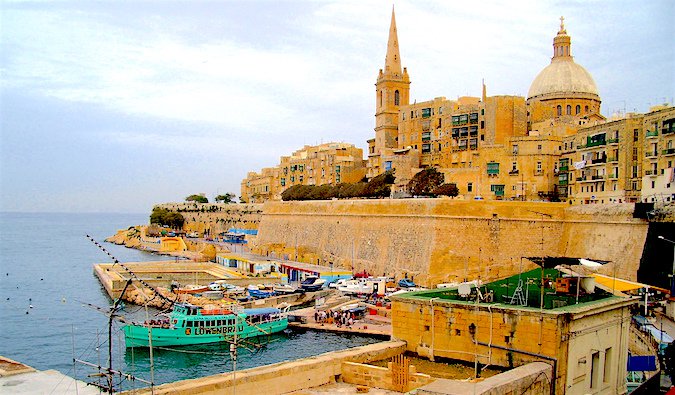 There are three ways to get around the island: buses, taxis, and car rentals. Buses cost 1.50-2 EUR ($1.60-2.10 USD) for a two-hour ticket or 21 EUR ($22 USD) for a weekly pass, while car rentals cost 39 EUR ($41 USD) per day (in the summer they start closer to 50 EUR or $53 USD per day). There are a number of local rental companies, but I used Hertz since it was close to my Airbnb. Many of the local car companies don't take credit cards and want deposits in cash. Going with bigger companies adds another layer of security.
Taxis cost 10-20 EUR ($11-21 USD); while not ideal, they can be ordered ahead of time via Whatsapp and are a good last-minute option if you get stuck because the bus doesn't turn up.
One thing to note about the buses is that they are infrequent so they fill up fast. We got on one bus, only to have him pull over, kick everyone off, and put us all in another bus, that then waited for 20 minutes to move. It's a crazy system and, during the summer months when the crowds peak, expect long waits. Don't be in a rush if you're using the bus!
Activities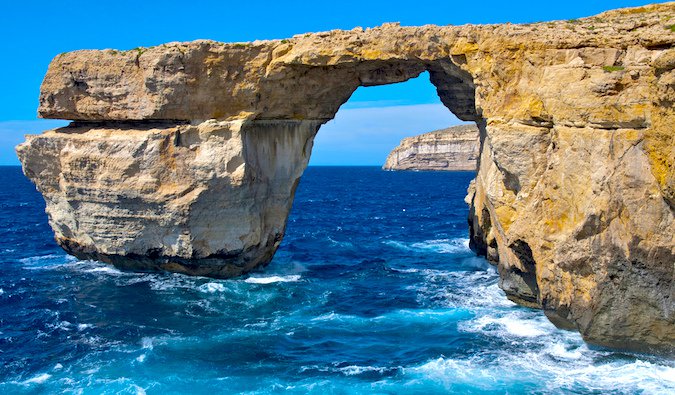 When the weather is nice, there are a bunch of free activities to do, such as enjoying the beach, hiking, swimming, and just walking around. Additionally, all the churches are free. You'll find a lot of companies that will take you around the island in a boat for 25 EUR ($27 USD). Most museums and attractions cost 5 EUR ($5.25 USD) but you can get a Malta tourism card (there's one for Mdina and a separate one for Valletta) that will save you about 10-20 EUR ($10.50-21 USD) depending on how many attractions you squeeze in.
On a side note, I found the main tourism center in Valletta unhelpful. The staff couldn't answer a lot of my questions. The smaller, unofficial locations that littered Sliema's boardwalk had more information on car rentals, things to do, and prices.
Recommended Bars and Restaurants
Restaurants: Rising Sun (Mdina), Loli (vegetarian), The Grassy Hopper (vegan/vegetarian), the Marsaxlokk fish market, Suruchi, Ta Doni, Cuba, Rocksalt, Ta' Rikardu (Gozo), Electro Lobster Project.
Bars: Hole in the Wall (Sliema), Native (and any bar on that street as it's the main hub for nightlife), Dubliner, Legligin, The Thirsty Barber
****
It's easy to visit Malta on a budget. I was shocked at how cheap this place. Even with summertime increases in accommodation and tour prices, Malta remains an affordable country. I've been to all the Eurozone countries now and I have to say Malta is one of the best — if not the best — value. When you combine it with warm weather, amazing landscape, historic cities, and incredible beaches, Malta because one of the best destinations to visit in Europe if you're looking to save money.
Source:nomadicmatt.com