Grandpa told Breanna that her wedding in the village was a dream come true.
The tale of how my grandparents became a couple is family legend. Their dads worked together in central Wisconsin. When Bill ignored Judy at a country dance, she went over and kicked him for being rude. Three months later, they were engaged. On Oct. 29 of that year, they were married.
Together they've traveled to all 50 states, created a family and started a successful business. Those who know and love them think Grandpa Bill and Grandma Judy were made for each other. Their marriage is an example for us all.
When my future husband, Brett, proposed and I accepted, we picked my grandparents' 56th anniversary as our wedding date and held our ceremony in the little church on Grandpa and Grandma's property.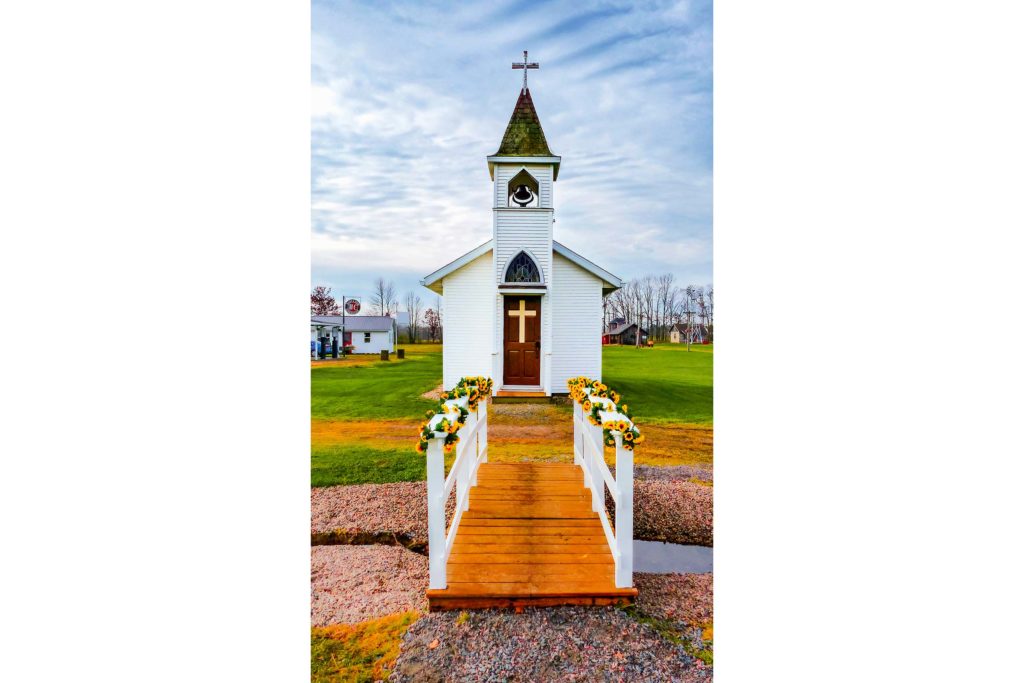 Country Extra MagazineIn a former life, the beautiful country church was an old garage slated for demolition. Grandpa, a carpenter almost all his life, saw that it had good bones and rescued it. Then he turned it into a place of worship. With 10 wooden pews, a small bell tower and an antique pump organ, the church is a tribute to a God that has blessed our family in so many ways.
The church is one of several structures on the property. As he neared retirement, Grandpa built a village to recreate his childhood haunts on his land. The one-room schoolhouse is a scale model of the school he attended through eighth grade. There's a log cabin originally built in 1847.
An assortment of treasures are scattered all over the property: a gas station, covered bridge, tavern, general store, train station, town hall, farm machinery building, outhouse, corncrib, pump car and a playground.
The buildings are filled with antiques that my grandparents, who are both passionate about preserving history, have collected through the decades. It's like a museum. Sometimes Grandpa gives tours to school kids so they can see the way people used to live. He has an awesome sense of humor and his tours are so entertaining. Grandpa is one of the humblest people you'll ever meet, but also one of the most talented.
As a child, I explored the old buildings, traveled up and down the tracks on the pump car, and played on the schoolhouse merry-go-round. However, the church was always my favorite.
So on my wedding day, Grandpa drove me to the village in his Ford Model T. Brett and I married in a traditional Lutheran ceremony. In the presence of our closest family and friends, we began our married life on a special day in a special place surrounded by an almost overwhelming amount of love.
My husband and I will strive to still be on our honeymoon 56 years from now, just like Grandma and Grandpa are.
Source:rd.com