In this post, We shares the best words of encouragement with pictures  for men/women, encouraging words from Bible. Through these inspirational quotes, we just want to remind you that everything will be alright in the end, don't worry 🙂
Famous Words of Encouragement – Encouraging Quotes
It's not whether you get knocked down. It's whether you get up again. –  Vince Lombardi
Get going. Move forward. Aim High. Plan a takeoff. Don't just sit on the runway and hope someone will come along and push the airplane. It simply won't happen. Change your attitude and gain some altitude. Believe me, you'll love it up here. – Donald Trump
The only person you are destined to become is the person you decide to be. – Ralph Waldo Emerson
It is by going down into the abyss that we recover the treasures of life. Where you stumble, there lies your treasure. – Joseph Campbell
A word of encouragement during a failure is worth more than an hour of praise after success.
Life is about trusting your feelings, taking chances, finding happiness, learning from the past and realizing everything changes.
If you have made mistakes, there is always another chance for you.You may have a fresh start any moment you choose,for this thing we call 'failure' is not the falling down, but the staying down. – Mary Pickford
The art of living lies less in eliminating our troubles than in growing with them. – Bernard Baruch
When one door closes another door opens; but we so often look so long and so regretfully upon the closed door, that we do not see the ones which open for us. – Alexander Graham Bell
In the middle of every difficulty lies opportunity. — Albert Einstein
Everyone has inside them a piece of good news. The good news is you don't know how great you can be! How much you can love! What you can accomplish! And what your potential is – Anne Frank
Life is very interesting. In the end, some of your greatest pains become your greatest strengths. –  Drew Barrymore
We either make ourselves miserable or make ourselves strong, the amount of work is the same.
Never let the odds keep you from doing what you know in your heart you were meant to do.
– H. Jackson Brown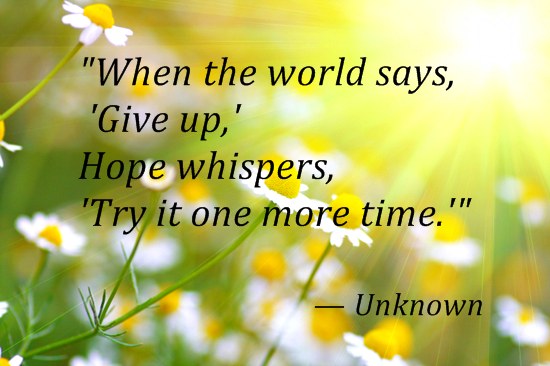 When the world says "give up", hope whispers: "Try it one more time".
Experience is not what happens to you; it is what you do with what happens to you.
– Aldous Huxley
Character cannot be developed in ease and quiet. Only through experience of trial and suffering can the soul be strengthened, ambition inspired, and success achieved. – Hellen Keller
Sometimes the best thing that you can do is not think not wonder not imagine not obsess just breathe and have faith that everything will work out for the best.
When nobody else celebrates you, learn to celebrate yourself. When nobody else compliments you, then compliment yourself. It's not up to other people to keep you encouraged, it's up to you. Encouragement should come from the inside.
There's much you can't change, but there's something important you can change: you.
– Rick Warren
Your mind is a powerful thing. When you fill it wit positive thoughts your life will start to change.
Encouragement words from Bible
Sometimes God's blessings are not in what He gives, but in what He takes away. He knows best. Trust Him.
Trust in the LORD with all your heart and lean not on your own understanding; in all your ways acknowledge him, and he will make your paths straight. – Proverbs 3:5-6
So do not fear, for I am with you; do not be dismayed, for I am your God. I will strengthen you and help you; I will uphold you with my righteous right hand. – Isaiah 41:10
God is our refuge and strength, an ever-present help in trouble. Therefore we will not fear, though the earth give way and the mountains fall into the heart of the sea, though its waters roar and foam and the mountains quake with their surging. "Selah" – Psalm 46:1-3
God can restore what is broken and change it into something amazing. All you need is faith – Joel 2:25
Hope you like these encouragement quotes & sayings.
source:sayingimages.com