AS THE trains purr into Huddersfield station a real-life feline is busy stalking the platforms.
Felix is the station cat and she – when Felix was named it was thought she was a he – has a miniature hi-vis jacket and name badge (senior pest controller) to prove it. But Felix is not really here to catch mice.That's just a convenient label that enables her food and veterinary bills to be paid for by her employer, the TransPennine Express railway company. The real value of Felix is as unquantifiable as the existence of a cat in any setting: human succour, animal warmth and the curious quirkiness that makes every feline endlessly fascinating.

In Felix's case the impact goes deeper. This is a cat who has comforted runaway children, elevated staff morale and consoled frustrated customers. The cat that likes to sun herself on platform one has also become an international star.

Following the creation of a Facebook page dedicated to her life in July 2015 by commuter Mark Allan, a steady stream of treats and letters started arriving from all over the world. When the cat was promoted from junior to senior pest controller a year ago the page went viral and attracted 100,000 likes.Many of the toys and treats she received have benefited rescue cats throughout the area. When word first spread of Felix's life on the right side of the tracks, TV crews descended on the station to film her bounding along the platform and squeezing through her own cat flap next to the ticket barriers.

And this week a book about her life was published. "There is actually a historic tradition of railway cats," says its author Kate Moore. "Back in the days of British Rail, many signalmen used to have them and they were even given joke wage slips."

It was a young station announcer called Gareth Hope who decided in 2008 that a cat was just what his station needed and lobbied his bosses for three years to make it happen. He had assumed the tradition had died out. Not so.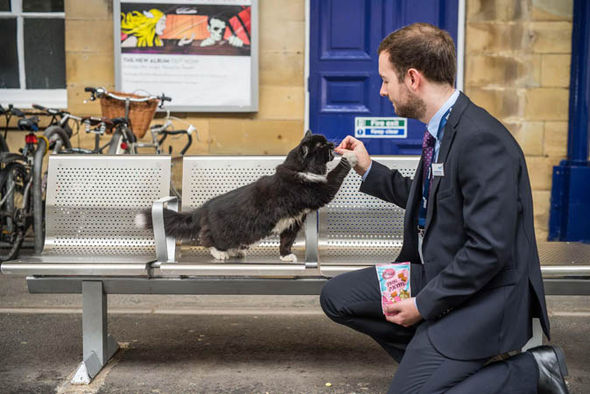 Felix likes to sun herself on platform one
There are railway cats up and down the country. Windermere has one, as does Kirkby Stephen East station in Cumbria. Southend Victoria is home to little Jojo, while Tonbridge in Kent recently erected memorial plaques in honour of its two felines, Jill and Louis, who passed away after many years of service.But as far as anyone knew there had never been a station cat at Huddersfield. Five years ago the acting station manager gave the go-ahead for a kitten to join the team. "It wouldn't have been fair to an older, former house cat to throw it in at the deep end in a working environment, with the danger of the trains and the noise and bustle of a busy station," says Kate.

"You can't teach an old cat the kind of new tricks that a railway cat would need to learn but if a kitten grew up there it would learn how to be a station cat." Huddersfield station hosts about five million customer journeys a year, with 15 trains per hour, placing it in the top 100 busiest stations in the country.

But the train drivers told Gareth they never hit cats as the vibrations of the oncoming trains were evident to most felines long before a train loomed into view. When Felix arrived as an eight-week-old kitten no one knew just how important this little ball of fluff would become.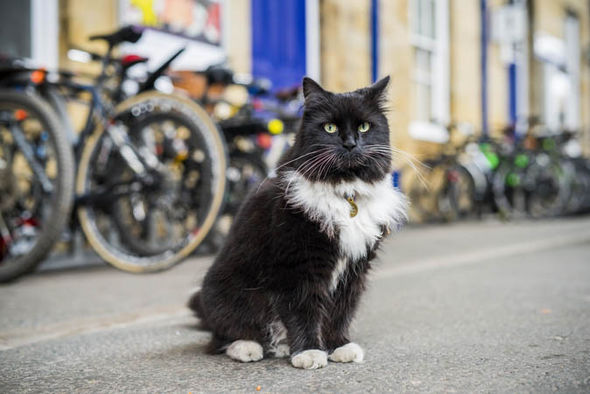 There are other railway cats up and down the country
She was named by Rachel Stockton, a conductor who'd once worked for the RSPCA. When she first laid eyes on the cat she assumed was a male, she declared: "He's a right little Felix", but the cat's real gender was revealed only when it was time for her inoculations.The kitten started life at the station in the announcers' office and soon made herself cosy in the top tier of the team leader's in-tray – when she wasn't sleeping on Gareth's lap for an entire shift. Within a week of her arrival the transformation in morale at the station had astonished many.

"Huddersfield has always had a family feel but along with the closeness of that atmosphere could come the odd row or niggle," says Kate. "Getting a cat seemed to bring everyone together." Team leader Angie Hunte was amazed to see the transformation in her colleague Martin, a somewhat reserved train announcer who clearly didn't "do" cats.

Yet even he was so charmed by Felix that one morning he gave her a toy mouse on a red pull-string. It was the same story when Felix met a five-year-old boy with autism after his mother brought him to the station to see him.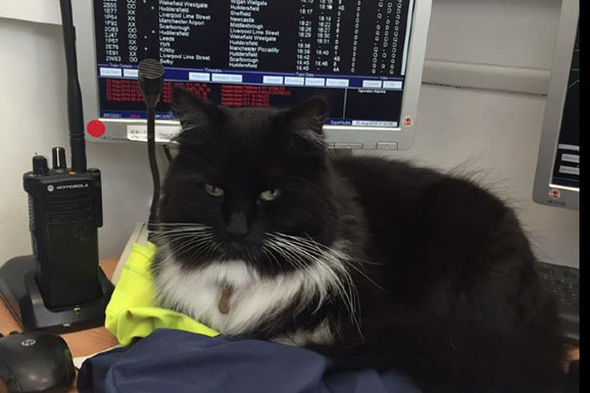 Felix was named by conductor Rachel Stockton
Although unable to make eye contact with the train manager, as soon as the child saw Felix he raised his head and shouted exuberantly, "Felix, Felix, Felix." Flapping his arms and smiling, he kept repeating the cat's name as Felix sat down next to him and wrapped her big fluffy tail around herself."Felix," the boy repeated, calm at last. The cat would often sit at the customer-information window for hour after hour disarming customers. She also proved to be great in a crisis, calming irate commuters and cheering up the lonely and the lost.

"As many as 100,000 children in the UK run away from home every year," says Kate. "Many are drawn to railway stations where there will be light and maybe food and company." And, in the case of Huddersfield, a friendly cat.

In November 2015, on platform one, customer experience manager Andrew McClements discovered a shivering boy, aged 11 or 12, who had run away from his care home. While he waited for the police to take the boy to safety, he got him a drink and popped Felix on the bench beside him.

"Have you met Felix?" he asked him brightly. "She lives here on the station. Why don't you give her a treat?" Boy and cat sat together on the bench as Felix worked her magic. Soon articles began appearing in the local paper and some regular customers started bringing in cat treats.TransPennine Express produced a calendar with a different portrait of Felix for each month and used her image on its Christmas cards. Felix even appeared in advertising material for a local production of Rising Damp in the role of Rigsby's moggy Vienna.

And when her Facebook page – "Felix the Huddersfield station cat" – went viral other cats started "writing" to her as though she was a pest-controlling cat idol in the feline world. She was even sent a special bowl by Battersea Dogs & Cats Home.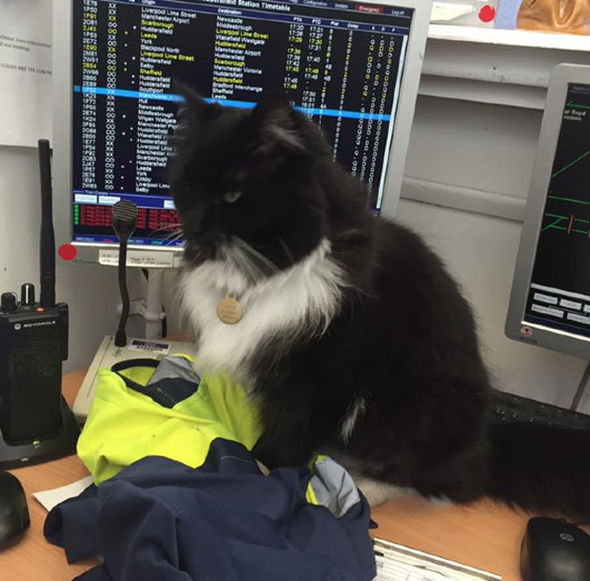 Felix appeared in advertising material for a local production
Soon Huddersfield had become a must-see destination for a number of her tens of thousands of fans, with some travelling from as far-a-field as China, Canada and Germany to see her. But Felix hasn't forgotten her roots."She remains a railway cat: she has a job to do and platforms to patrol," says Kate Moore. And, of course those all-important catnaps to take.

 

Source:express.co.uk